"I am motivated to do the best job I can for my clients. It is my goal to help them solve the problem that they have presented to us and work to a resolution either through negotiations or litigation. I am most satisfied when I am able to obtain a successful result for our clients."
Gary Weiner established Weiner Law Firm, P.C. in 2005 and he concentrates his practice in Bankruptcy, Commercial Litigation and Collections. Attorney Weiner has been a Chapter 7 panel Trustee since 1997 and as part of his bankruptcy practice he represents Debtors, Secured and Unsecured Creditors and Trustees. Gary Weiner has been named a Massachusetts Super Lawyer in his area of practice, Bankruptcy Law from 2004-2022 and has also been recognized in Best Lawyers in America from 2009-2022. Gary is also the current chair of the Client Security Board.
Super Lawyers represent the top 5% of practicing attorneys in Massachusetts. Attorneys were selected from over 37,000 ballots, which were sent to lawyers throughout the Commonwealth of Massachusetts.
A Super Lawyer is a lawyer recognized by his or her peers as being outstanding in their profession. Attorney Weiner is the only Bankruptcy Attorney in Western Massachusetts who was selected as a Super Lawyer in the Bankruptcy & Creditor/Debtor Rights area for eighteen consecutive years.
Attorney Weiner has an AV rating with Martindale-Hubbell. Only 10% of all attorneys hold an AV rating.
Practice Area
Concentrates in bankruptcy law, commercial collections, commercial litigation and loan workouts; serves as one of only three Chapter 7 Bankruptcy Panel Trustees in Western Massachusetts appointed by the United States Department of Justice.
Education
Suffolk University Law School, J.D., 1986
Syracuse University, B.S., 1983
Bar and Court Admissions
Commonwealth of Massachusetts 1986
United States District Court for the District of Massachusetts 1987
United States District Court for the District of Connecticut 1990
United States Court of Appeals for the First Circuit 2000
Professional Associations and Memberships
Commercial Law League of America
– President, 2010-2011
– Finance Committee, 2012- 2015, 2019-2022
– Attorney Board Representative 2006-2009
– Recording Secretary 2004-2005
– Chair, Young Members Section 2002-2003
– Chair, New England Region 1995-1996
– Chair of Bankruptcy Section 2016-2018
– Treasurer, Bankruptcy Section 2014-2016
– Member Board of Governors Bankruptcy Section Rep 2018-2020
– Past Contributing Editor to Newsletter
National Association of Bankruptcy Trustees
Hampden County Bar Association
– Chair, New Members Section 1994-1995
American Bankruptcy Institute
Massachusetts Bar Association
Awards, Achievements and Appointments
Client Security Board – Current Chair, appointed Chair 2023. Appointed by Massachusetts Supreme Judicial Court to five year term 2018-2023,  appointed Vice-Chair 2022 and appointed Secretary 2020.
Chapter 7 Trustee Panel, District of Massachusetts, 1997-present
Massachusetts Local Bankruptcy Rules Attorney Advisory Committee 2003-2005, 2022-Present.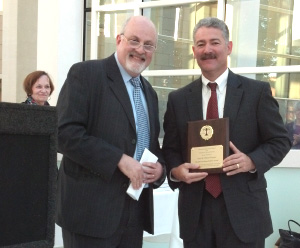 Attorney Weiner presented with Pro Bono Award by Judge Henry Boroff
Recipient of the 2013 Pro Bono Publico Award;
Awarded by the Massachusetts Justice Project and Volunteer Lawyers Service
Selected a Massachusetts Super Lawyer for Bankruptcy and Creditor/Debtor Rights Law, 2004-2022
Selected in Best Lawyers in America for Bankruptcy and Creditor/Debtor Rights Law, 2009-2022
Publications and Lectures
Author and Lecturer – "The Student Loan Crisis" A Debate & Discussion on How to Address the increasing Debt of Student Loans in and out of Bankruptcy" – Commercial Law League, National Convention, May 2019
Author and Lecturer – "They Sold my House and You Said it was Safe", Massachusetts Bar Association (Western Mass Bankruptcy Conference) – November, 2018
Author and Lecturer – "They Sold my House and You Said it was Safe", American Bankruptcy Institute, Northeast Conference, July 2018
Author and Lecturer – "Traps for the Unwary", Commercial Law League Webinar, January, 2018
Author and Lecturer – Impact of Bankruptcy on Mechanic's Lines and UCC Filings, Webinar – NCS, December 2017
Author – "Bankruptcy Trustee's Ability to Clawback Debtors' Tuition Payments", Commercial Law World Magazine, January, 2017
Author and Lecturer – "Secured Creditors and Alternatives to Foreclosures Bankruptcy Panel" – Commercial Law League National Convention, April 2013
Author and Lecturer – "Bankruptcies and Agencies Playing in the Same Sandbox" – Commercial Law League National Convention, May 2012
Author and Lecturer – Massachusetts Mechanic's Liens – Trade Groups, March 2011
Author and Lecturer, Hampden County Bar Association 7th Annual Western Massachusetts Bankruptcy Law Conference, October 2008
Author and Lecturer, National Association of Credit Management – Credit Congress; "Bankruptcy a 360° View – A Trustee's Perspective", June 2007
Author and Lecturer, Commercial Law League of America – Eastern Region Conference; "Bankruptcy a 360° View – A Trustee's Perspective", November 2006
Author and Lecturer, Massachusetts Bar Continuing Legal Education – Fourth Annual Western Massachusetts Bankruptcy Law Conference, "Homestead, Residency & New Requirements to File", September 2005
Author and Lecturer, Advanced Collection Law in Massachusetts (Bankruptcy Issues) Lorimar Publications, June 2004
Author and Lecturer, Commercial Law League, Midwest Convention, "Impact of Revised Article 9 on the Bankruptcy Code", April 2004
Author and Lecturer, Commercial Law League, New England Convention, "Unintended Consequences: What to Know before alleging Debtor Fraud", May 2003
Author and Lecturer, Commercial Law League, Midwest Convention, "Asset Liquidation in the 21st Century", April 2002
Author and Lecturer, Recent Developments in Bankruptcy Law, "Exemptions", Massachusetts Bar Institute, November, 2002
Author and Lecturer, Commercial Law League New York Convention, "Getting it and Getting it Done", November 2002
Lecturer, Commercial Law League, New England Convention, "Hidden Liens", May 2001
Editor, Commercial Law League, Bankruptcy Newsletter – various case notes 1994-2003
Co-author and Lecturer, "Strategy of a Lender, Loan Collection Litigation In and Out of Bankruptcy", National Business Institute, 1992
Editor, "Massachusetts Collection Manual", Butterworth Legal Publishing, 1990
Reported Cases
Weiner v. Dupuis, 25 LCR 749, 2017 Mass. LCR Lexis 2013 (November 7, 2017)
Lee Bank vs. Bearbones, Inc., 2017 U.S. Dist. Lexis 167685 (D. Mass. October 11, 2017)
Cadle Co. v. Scarlett, 2017 Mass. App. Div. Lexis 50 (2017)
In re: Sullivan, 550 B.R. 163 (Bkr. D. Mass. May 2, 2016)
In re: Dupuis, 524 B.R. 1 (Bkr. D. Mass. January 8, 2015)
In re: O'Sullivan, 488 B. R. 510 (Bkr. D. Mass. March 21, 2013)
In re: Fiesole Trading Corp. 2004 Bankr. Lexis 1483 (2004)
Candelario v. Pagan 282 BR 735 (2002)
DAP Financial Services v. Peterson, 6 LCR 125 (1998)
Soforenko v. Soforenko, (In re;; Soforenko) 203 BR 853 (1997)
Denchy v. Richard J. Zalowski, (In re: Zalowski),107 BR 431 (1989)
Pro Bono Services
Volunteer Lawyers Service for Western Massachusetts